2017: 
05.05.17 – 06.05.17 Hackstock2017, Times – 10.30am-18.30pm Friday and Saturday
(booking essential for PandoraStar)
In the East Room of The Trampery  setup as an Hypnagogic Art of Neuroscience laboratory we also have Brainmachine (IBVA) EEG recordings and ongoing bookable Pandorastar sessions.
It is free to attend Hackstock, and once inside we  offer you the opportunity to book an individual session with the latest technological genius in psychedelic strobing white light, and potentially have your brainwaves monitored and recorded. Just curious ? You can compare this with a Dreamachine – an iconic kinetic light sculpture setup in our Arts Laboratory. Working with the Brainmachine (IBVA) EEG monitors Luciana and her team can combine recording the brainwaves of participants whilst they are experiencing the wonderful phenomena 'PandoraStar' – the latest in Stroboscopic Light Therapies. This is a non-intrusive form of light therapy, which concentrates the mind and involves the client closing their eyes under a flickering light machine. The session can provide a client with relief from tension, relieving stiff muscles and joints in the physical body. The session is highly relaxing and can have a profound relief upon the negative effects of stress. They will also have a classic Dreamachine designed by artist Bryon Gysin in the 1960s spinning proudly on a record player.
You are welcome to drop-in see the recordings of brainwaves and experience 'flicker' from the Dreamachine whilst you wait for the next available space with the strobe lamp. If you want to know more about a transcendental experience you have had during a journey, a dream, even on the dance floor or through teacher plants then this session is for you. We will show you the art of Entoptic patterns, phosphenes behind closed eyes as bright as stained glass decorations illuminated via a preternatural luminescence, nonlinear narratives and visions – and we will explain how your brain creates them.
NOT SUITABLE FOR PERSONS WITH PHOTOSENSITIVE EPILEPSY, MIGRAINES, experiencing pregnancy or taking anti-depressants.
Book tickets for an individual session from £10 for 20 minutes (with optional extra for brainwave recording )with PandoraStar here :
www.billetto.co.uk/events/lucid-strobe-light-tickets-187844/tickets

www.creative-mapping.com/hackstock/
Hackstock2017, The Trampery, Old Street, London, EC1V 9EY, United Kingdom
__________________________________________________________
14.05.17 : 7:00 PM – 10:00 PM, House of Alchemy, Brighton – tickets essential
I will be taking part in an event on Sunday 14th May in The House of Alchemy in central Brighton. The pop-up gallery is located in the heart of Brighton's cultural quarter opposite Brighton Dome and Pavilion.
Sarah Janes presents a talk about Mnemosyne, a member of the illustrious ranks of Greek Goddesses. Mnemosyne (Memory) was conceived in a union between Ouranos and Gaia (Heaven and Earth). The power of Memory is the force that enables mortals to enter the unconscious, collect the treasures of the divine and bring them in to the light of day.
Luciana Haill invites participants to explore and measure their own brainwaves during this invocation of Mnemosyne using a classic Dreammachine and a PandoraStar hypnagogic light technology. She is concerned with esoteric ways of accessing the Visionary, using psychotronic and contemporary photic entrainment devices, perchance to dream, enter a Hypnagogic state, inducing dream-like visions, entoptics and journeys.
Sun 14 May, 7pm-10pm, tickets £6.50 + b.f. in advance / £8.00 on the door
Tickets available here :
www.brownpapertickets.com/event/2853475
http://www.brownpapertickets.com/event/2853475
More information here :
www.alchemy.house/events-talk-mnemosyn-eeg
House of Alchemy, 114 Church Street, Brighton, BN1 1UD, UK
__________________________________________________________
2016:
18.10.16 : Ample Frequencies, Ace Hotel, Shoreditch from 7pm (RSVP – free)
From the mundane hum of the refrigerator to the melodies of the cosmos, we experience our world through the slant of sound. This October, Ace Hotel and the audiophiles at B&O PLAY begin to ponder, poke and redefine the edges of sonic consciousness with Ample Frequencies — a series of performances, site-specific installations and sound symposia taking place in New York, London and Los Angeles.
For London's inaugural happening, we've linked-up audiovisual artist Adoxo and scientific researcher Luciana Haill for a sonic sojourn into the quiet mind. A one night only installation in our dreamy basement bar Miranda, the pair's project will monitor an audience member's brainwaves during guided meditation, reimagining the results as an oscilloscopic audiovisual performance. A panel discussion hosted by Tabitha Thorlu-Bangura of NTS Radio follow.
---
03.09.16 – 25.09.16 : Technology is Not Neutral, Phoenix Studios, Brighton
'Sleep Cycles' – mixed media installation featuring the EEG recording of a Vivid Dream projected over a book in a bed, a series of cloches containing dream and sleep elements over 8 hours and illustrations made from prolonged states of Reverie from 2014.
'Technology Is Not Neutral' is a new touring exhibition project curated by Gordana Novakovic, Anna Dumitriu and Irini Papadimitriou which launches at Phoenix Brighton as part of Brighton Digital Festival. The exhibition highlights and investigates the work of a group of women artists in the field of digital arts. The title refers to a quote by Donna Haraway taken from her Cyborg Manifesto. It includes significant and newly commissioned work by pioneering and contemporary female digital artists. The exhibition features work by Ghislaine Boddington, Susan Collins, Laura Dekker, Anna Dumitriu, Bhavani Esapathi, Julie Freeman, Kate Genevieve, Sue Gollifer, Luciana Haill, Nina Kov, and Gordana Novakovic.

Phoenix Brighton 10-14 Waterloo Place, BN2 9NB Brighton
All Welcome, free entry. www.technologyisnotneutral.com/
---
02.02.16 : Virtual Futures, London 'Neurostimulation'  Virtual Futures Salon
Tues 18:30 · Lights of Soho · London
Panel discussion with Dr Nick Davis and Luke Robert Mason about EEG and a new type of device available, electronic stimulation, that not only reads brain activity but also attempts to influence it.
More information here and ticket booking
---
16.02.16, London LASER 13 : 'Astronauts of Inner Space', Central Saint Martins, London
A panel talk about the intersections between the psychic and the scientific – Dr David Luke, Luciana Haill, Wai H. Tsang and chaired by Bronac Ferran. 6.30 – 9.00pm
FREE, but booking required to ensure you save a place: londonlaser13.eventbrite.co.uk
---
25.02.16 Oxford Arts and Science Festival
The Laser London talk has been extended to this date during the Oxford Arts and Science Festival thursday 25th February.Devised by Bronaċ Ferran, Astronauts of Inner Space* brings together speakers interested in diverse interfaces between science and the psychic.
For Somerville Arts Festival, Bronaċ will introduce Luciana Haill, David Luke and Wai H. Tsang. Together they will tackle topics relating to art, neuroscience and the body including the art and science of psychedelic perception, neuromorphic computing, fractal brains, entopic visuals and Dreamachines.
Luciana Haill
 is a 
contemporary Surrealist 
working with neurotechnologies and her recent practice has focused on artist Brion Gysin's Dreamachine, Entoptic visuals and the phenomena 'Flicker'. 
She has developed this into a series of performances and installations involving the realtime monitoring and 
sonification
 of the participants own brainwaves using techniques from hypnosis and meditation, she is considered a pioneering artist in her field.
The 'Phrontesterion' (EEG & Dreamachine) 
references the notion of 'The Visionary'
 and has been shown internationally at major venues including The Royal Institution, The Waag Society in Amsterdam and KIBLA in 
Slovenia. 
She is also Artist in residence in the University of Sussex for The Department of Informatics in the UK.
2015:
07.12.15 : The Wellcome Institute, Consciousness and the Arts Symposium, London
Artist and workshop co-facilitator with Dr. Srivas Chennu, Senior Research Associate, Department of Clinical Neuroscience, University of Cambridge
---
28-29 October, Frequency Festival 2015, Lincoln – The Old Drill Hall
Click here to view photos and description from the event
Phrontesterion : The Dreamachine with EEG interactive installation was debuted at Kinetica Art Fair London, will be available for 2 days, book your own 15 minute session in the Dentist Chair.
Frequency Festival website
---
24th October, Lates – The Royal Academy, London
Phrontesterion and Dreamachines(3)
Click here to view photos and description from the event
---
7-9 October, KIBLA, Slovenia
Phrontesterion and Dreamachines(2)
Click here to view photos and description from the event
---
19th September, The October Gallery Theatre, Holborn, London
Click here to view photos and description from the event
Arrive at 2.45 pm for a 3.00 pm start 5.00 pm close
Disseminated Dreamachines : An interactive exploration of 'Flicker' exemplified with brainwave (EEG) analysis
Fine artist Luciana Haill will conduct an interactive exploration of 'Flicker' through Brion Gysin's Dreamachines. She will demonstrate with audience members how brainwaves shift while viewing the flickering sculptures. Also showing some very different  EEG recordings made during exposure to the Dreamachine. There will be 3 Dreamachines setup for group experience in the relaxing library upstairs, whilst listening to accompanying rhythmic passages from Jon Hassell, Richard Pinhaus and Coil until close. There is also my facility for individual discrete EEG monitoring (20 minutes recording) available during the Dreamachine sessions. I will be presenting some of my paper "ICT & Art Connect: Revelations by Flicker, Dreamachines and Electroencephalographic signals in art" : http://doc.gold.ac.uk/aisb50/AISB50-S12/AISB50-S12-Haill-paper.pdf
All welcome, but if sensitive to photosensitive epilepsy you must leave the room after the talk. thank you.
Admission: £7.50 Concessions £5.00
For more information and ticketing, please click here
---
—
10-12 July, Breaking Convention, University of Greenwich, London


I held a participatory workshop as part of the overall session: "Hypnagogic Light Machines." I presented Dreamachines and a Keynote on history of Animal Electricity, The Discovery of EEG and Flicker through the Convergence of Dr William Grey Walter's 'The Living Brain' into Bryon Gysin's classic, hypnotic, Dreamachine. Also took part showing 2 Dreamachines in the night in Bar Latitude of 'The Nights of Eleusis'
More photos of workshop here
www.2015.breakingconvention.co.uk/programme/
---
—
16th June, 'Ready Player Two? Bringing virtual reality dreams to life', from 6pm.
Nesta, c/o Shoreditch Village Underground, London
A London Technology event in partnership with Hot Topics, The Long + Short and FutureFest. This will showcase new technologies, imagine future applications for VR in gaming, entertainment and escapism of all kinds, and debate the moral complexities of building worlds for others to live in. Recent reminders that games design and science fiction are as political as their authors brings to mind questions about the ethics of designing and living in virtual environments, and of messing with the narrative our brains construct for us everyday.

The panel consisted of Jess Bland moderating, with Dan o Hara talking philosophy, literature, art & technology, Luciana Haill, Rob Morgan, and Zillah Watson – a really adventurous combination of journalistic, artistic, and gaming narrative competence.
Registration from 6pm, event starting at 6.30pm prompt. The event will close at 7.30pm with a drinks reception until 8.30pm.
See more at: www.nesta.org.uk
---
—
22nd April 10am -7pm, Transmission Symposium 2.0, Bournemouth University Executive Business Center
The second event organised here, I am showing a new 2 person EEG artwork in progress 'Music for solo performer' in Transmission Symposium 2.0. This is exploring Theta waves through photic entrainment of the classic Dreamachine(s) augmented with live projected EEG and interactive sonification.
More photos of installation

www.transmission-symposium.org/
---
—
25th March 6.45-10pm, 'Lates', The Science Museum, South Kensington, London
'Lates' happens on the last Wednesday of each month, come find me alongside Dr David Luke and experience a drug-less high' via photic stimulation with your eyes closed by Flicker. See the Dreamachine & hear your brainwaves sonified in The Science Museum 25.03.15 "Lates"- Enhancements – Synthetic biology.
More photos of installation here
---
 —
4th of February 2015 10:30-16:30, Bournemouth University Executive Business Center
I took part in first Transmission Symposium to speak and present my installation "Phrontesterion", involving EEG with an augmented Dreamachine in Bournemouth. Artists from fields as diverse as performance, music composition and dance are opening routes to translate Brain Computer Interfaces (BCIs) into new audiovisual forms. Transmission explores new strategies and existing avenues in the field of brainwave interpretation for arts and research. Bournemouth Media School, a center for excellence in media production hosts a conference to debate synergies, current developments and future objectives on the intersection between art and technology. 

Transmission brings together artists and researchers in the field of BCI visualisation and sonification, providing the opportunity to present ongoing projects, exchange ideas and to define the cornerstones of future developments. The Transmission Symposium offers a worldwide unique forum for an emerging network between arts and science. 4th of February 2015 10:30-16:30
Bournemouth University Executive Business Center, 89 Holdenhurst Rd BH8 8EB
More photos of installation here
www.transmission-symposium.org/
---
—
2014:
Thursday 27th November, The Explorers Club, 3 Fisher Street, BN72DG, Lewes:
'Revelations by Flicker, Dreamachines and Electroencephalographic Signals in Art , presented by Luciana Haill'
The combination of brainwave monitoring with the early adoption of stroboscopes in neurophysiological research produced side effects – induced hallucinations named 'Flicker'. I will give a historical overview, with examples of artistic outcomes based on flicker with Neurofeedback techniques.
More photos of installation here
---
—
Friday 31st October, 'The Creation of the strobes', SPILL Festival, Ipswich
www.spillfestival.com/show/the-creation-of-the-strobes/
Old Police Station
Part of the SPILL National Platform
15:30, 17:00 for 40 mins
Buy tickets and more information :SPILL Festival of Performance, 'ON SURRENDER', IPSWICH, UK

See more Photos of performative installation here
---
—
October 29, 2014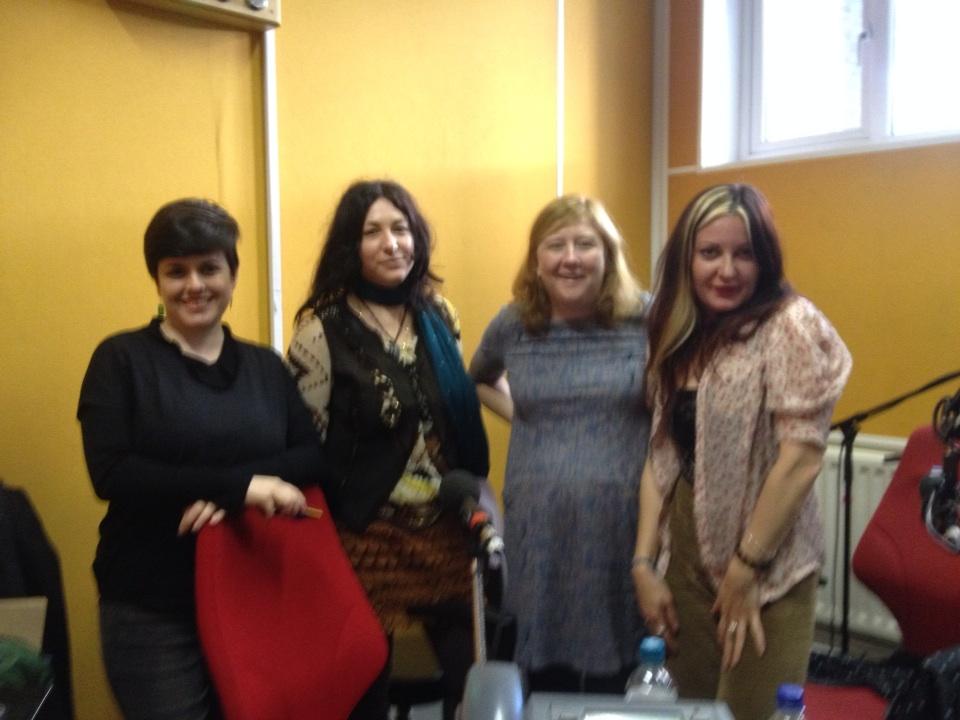 ResonanceFM – Listen to 'In Conversation',  Bronac Ferran, Magz Hall, Luciana Haill, Dianne Harriss Art Director of Kinetica and Mariana Manhaes.
---
—
Thursday October 16-19, 'Phrontesterion',  Kinetica Art Fair, Old Truman Buildings, Shoreditch, London

See more photos of installation here
---
—
Wednesday 28th May, Cabaret of the Mind presents : Explorers Club ' Lucid Dreaming '
The Spiegeltent, Brighton Festival, 7.30pm, £10
The latest induction device in Lucid dreaming Sleep research was announced on May 12th in Nature journal of neuroscience. Come to our evening workshop  and learn how to train the rare ability to be aware and in control of our dreams. Neurofeedback artist Luciana Haill and Oneironaut Sarah Janes investigate how lucid dream practice can help improve your skillset and creative output in 'waking life'. Come and learn how to control your dreams – demonstrated with the addition of a realtime EEG (brainwave) monitor.
See more photos of the event here
---
—

Friday 28th March, evening performance and presenters (20.30 – 22.00) Live, 8.30pm, Waag Society, Amsterdam

Theatrum Anatomicum and Open Wetlab, Waag Society,
Nieuwmarkt 4 Amsterdam, Netherlands
See more photos of performance here
www.ict-art-connect.eu/event/economies-art-technology-collaboration-politics-ethics-power-propaganda/
---
—
FACT, Liverpool
21 & 22 February, 12pm – 4pm : Come and make your own dream machine, Family workshop – make your own
dream machine plus interactive lecture – FREE !
22 February 2014 / 5pm – 7pm / EEG Dream Machine interactive performance lecture
FACT, 88 Wood Street, Liverpool, L14DQ

The dream machine is a paper tube with a pattern cut in the side. You spin it on a record player, hang a light inside, and look at it – with your eyes closed! The dream machine was designed  by a mathematician called Ian Sommerville working with a poet/painter called Brion Gysin to create a dream-like feeling through the flickering effect of light as the tube turns. You can make one easily out of paper and we'll be helping you to do it. Paint, collage or illustrate the inside of your dream machine for added effect. We'll have old record players and lights to hang inside. It's going to be a session for making,  testing, painting, and dreaming…
The workshop is for ages 5 to 95 and will be adult supervised. All materials will be provided.
The performance lecture will show the evolution of the Dream Machine via the discovery of brainwaves and strobe lights , requires participants for experiential EEG demonstrations and subjective discussion !
Facilitated by John Fass, Luciana Haill and Bronac Ferran.
---
—–
2013 :
Vilnius, Brussels 'Where Art meets ICT and Futures' November 5-8th

My work will be included in an area where artists exhibit under theme 5 'Culture, Science and Creativity' emphasizing their interaction with art.  The other exhibiting projects will be asked, as part of their dissemination activities, to engage with artists to express their views on the results of their project, presenting a view how these could be projected in the future building upon the long-term visions developed in "Digital Futures". Stages for artists to perform, to engage in discussions ('collisions') with ICT experts and for storytelling performances will be available and walking tours around the art exhibits will be organised.
---
—
2012 :
Mexico City DF, Mexico : 'Artes y nuevas ciencias V' , August 6-11th
EEG Art lecture and workshops in CENART,  Monday 6th -7th August

Luciana presented her experience of 17 years explorations in EEG (english translated to spanish) as an essential vigour for generative sound and influencing electronic artists and composition at 6pm. There followed 2 workshops in the mornings of 6 and 7th August exploring the classic Dream Machine, flicker through history and the Beat poets scene with practical interoceptive and neurofeedback interactive tools in Mexico city's CENART as part of a week long symposium.
http://www.cenart.gob.mx/2012/08/artistas-e-investigadores-internacionales-abordan-el-nexo-entre-artes-contemporaneas-ciencias-y-tecnologias/
See videos here :
---
—–
2011
Friday 16th September, Luciana / IBVA at 10.45am
Tangible Feelings, IMAL, Brussels
This one-day symposium gathers artists, scientists and academics to discuss the use of EEG and biofeedback in the field of Art. Through this exchange around artistic intentions and technology, we hope to shed light on the possibilities and illusions emerging from our brain waves –  ( guests need to register to attend)
---
—
Saturday 3rd September, 10am-5pm (free)
Maker Faire, The Dome, Brighton, UK
Maker Faire is a FREE family-friendly event where you can marvel at the mind-boggling home-made creations of the best inventors, crafters, hackers and DIY-ers from across the UK, and even have a go at making something yourself
www.makerfairebrighton.com

---
——
---
—
Friday 5th – Saturday 6th August, 9pm
Playgroup Festival, The Forest of Thoughts Science & Art tent : Plug in and drop out to a flickering Dream Machine with brainwave generated sounds, dream reports, lucid dream supplements and animal masks!
---
——-
---
Saturday 7th May 1.30pm
Parsonage Side Retreat, Otterhampton, Sommerset, UK
Interactive Neurofeedback artist Luciana Haill will sonify different volunteers / guests / altered states / meditators's EEG with the amazing 'IBVA' brainwave monitor. Her main area of research is Lucid dreaming – during sleep this is a classic 'Altered state of consciousness' (ASC). As an experimental musician she claims 'We spend over a third of our lives sleeping – why should sleeping be downtime for artistic yield?' Altered states of consciousness exhibit subtle EEG (brainwave) changes that must be observed with carefully chosen technology and signal processing procedures. Lucid dreaming  and models of other ASC will be illustrated with sonified data from EEG recordings.
See full line up for this open weekend here :http://parsonagesideretreat.webs.com/openweekend2011.htm
---
——-
2010
Thursday 04.11.10
Lunch Bites, The Culture Lab, Newcastle University 1pm ( free) "Augmented States of Consciousness & Generative audio from EEG in Digital Art"
Abstract : 'We spend over a third of our lives sleeping – why should sleeping be downtime for artistic yield?'
---
—–

Saturday 30th October 2010
APHP Annual conference, Thistle hotel, Mayfair London
Guest speaker Luciana Haill, presents Neurofeedback with IBVA (members only event) 2.30pm
—–
---
Saturday 30th  October 2010, 10.15pm in The White Room
White Night, Brighton, Phoenix Gallery, Grand Parade/Waterloo place, Brighton
Luciana offers Analogue Oneironism combining EEG and a  dream machines and phantom self experiences to the general public after 10pm – midnight
---
—–
May 21st 2010, Guerilla Science, The Fishbowl, Queen of Hoxton, London

Imaging the Intangible !
Anyone who had the pleasure of wandering into the basement of the Queen of Hoxton last night at the Fishbowl festival would have had very good reason to pause and wonder what on earth we were up to. EEG sonifications were generated whilst intimate audience were exposed to a lonely Dream Machine, singing and shared collective memories in the basement.
Read a review with more photos here :
http://guerillascience.org/tag/luciana-haill/
---
—
Saturday 24th July 2010
The Secret Garden Party, Guerilla Science Tent, somewhere in a field outside Oxford.

Luciana Haill and stage hypnotist Darius show changes in brainwaves of participants as they follow hypnotic suggestion at 11am.
---
——
Monday 22nd March 2010
The Dana Centre
This is your brain on technology hosted by Aleks Krotoski, Luciana Haill, Neurofeedback artist, guest speaker showing EEG changes during multitasking with the IBVA brainwave monit